Cessna 172N/N738ZU – $137/Hr
N738ZU "Zoey" is an absolutely beautiful '78 Cessna 172N. With dual Garmin GPS navigation systems and an upgraded 180HP engine, this 172 performs comparably to a new S model Skyhawk and is an ideal platform for long cross-country flights.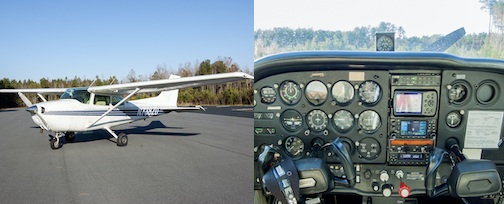 Cessna 172M/N1374U – $125/Hr
N1374U "7-Up" is a highly capable Cessna 172M with an advanced dual Garmin G5 instrument system and digital tachometer. As the single most popular general aviation aircraft in the world, the Cessna 172 provides a familiar and easy to handle platform for initial flight training.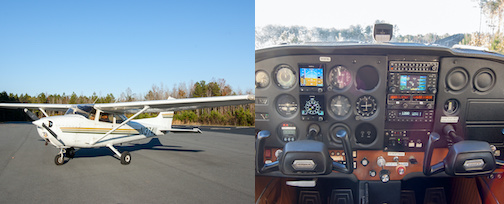 Cessna 172M/N20289 – $125/Hr
N20289 "Jade" – An amazing aircraft with a flashy paint job, this '72 Skyhawk proves itself to be a reliable trainer aircraft. With a dual Garmin G5 display, Garmin GMA 347 audio panel, and Garmin secondary radio, this aircraft offers a variety of resources to a flight crew.


Cessna 172M/N13447 – $125/Hr
N13447 – Like it's namesake, "Yeti" is snow white from nose to tail. This C172 is a very popular aircraft among students due to its stability, retractable seatbelts, and traditional instrument panel. A pilot can't go wrong choosing this plane!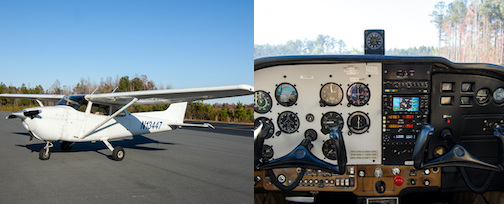 Cessna 172M/N42212 – $125/Hr
N42212 is the most recent Skyhawk added to the Epix fleet! This aircraft features the most advanced avionics of the C172s in the fleet with a dual G5 display, GMA 345 audio panel, and a Garmin transponder. Be sure to book this plane as soon as you can!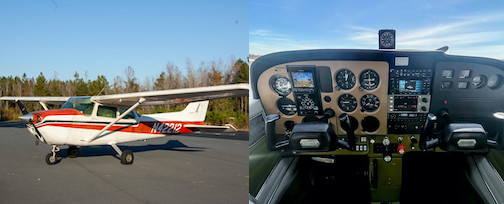 Piper Archer PA28-181 N2552Q – $130/Hr
N2552Q is one of the most popular additions to our fleet, providing a great balance between training and cross country utility. With a WAAS-enabled GPS and an HSI, it serves as an excellent instrument training platform.


Piper Arrow PA28R-200 N1425T – $159/Hr
N1425T is Piper Arrow with retractable landing gear and a constant speed propeller, making this classified as a complex aircraft. We offer a complex aircraft training course for pilots who do not yet have their complex endorsement and are looking to expand their abilities!


Piper Saratoga PA32R-301 N4294N – $231/Hr
N4294N is Piper Saratoga that meets the complex and high performance aircraft requirements. We offer the Saratoga to any pilot who has their complex and high performance endorsements along with specific flight time requirements. Please call us for more information about the time requirements or our high performance course!


Diamond DA40/N654MS – $185/Hr
The excellent balance of comfort, price, and speed make this aircraft our most popular long distance cross-country aircraft. It also offers an opportunity to get to know the Garmin G1000 avionics suite that is also found in many other modern aircraft. With seating for four and a large baggage area, this is one of the best planes you can rent for a family vacation.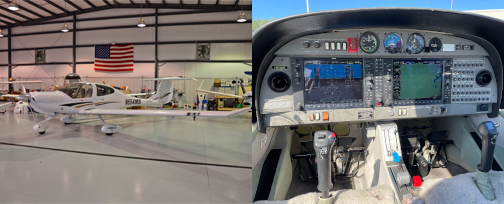 Diamond DA20/N552MA – $130/Hr
Small, light, and quick, the Diamond DA-20 is a great aircraft for a quick trip out to the Outer Banks. With the positive feel of its control sticks and the outstanding visibility of its bubble canopy, it's a great aircraft for weekend trips and sightseeing. With a cruise speed of over 120 knots, it also makes a great cross country aircraft if you're travelling light. N552MA is certified for Day and Night VFR flight, and offers a full suite of equipment for simulated IFR training. A MAJOR update to the avionics have made this plane an absolutely stellar platform for instrument training, with dual Garmin G5's.
Citabria 7KCAB/N11702 – $139/Hr
The Citabria is a tail wheel airplane used for students to obtain their tail wheel endorsement and to gain basic aerobatic experience. With a fuel and oil system designed for inverted flight, it is perfect for basic aerobatics. Our Citabria is also one of the only tail-draggers in the area that you can rent solo after a checkout flight with our instructors. Come in and check out our tailwheel transition course.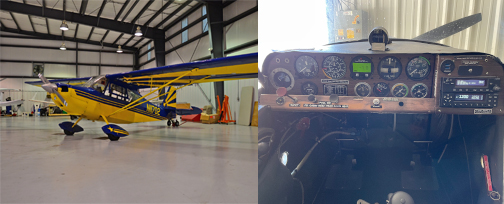 Piper Super Cruiser PA12 /N2901M – $119/Hr
The Super Cruiser is a classic tailwheel airplane, and an alternative to our Citabria! As a version of the Piper Cub, this aircraft will be familiar to many pilots and offers an experience like none other! N2901M is a staff favorite, and can often be seen flying around with the windows open! N2901M is certified for Day/Night, and VFR operations.


Leaseback Opportunities
There are currently special opportunities for a limited number of leaseback aircraft. See how a lease back can enhance your personal tax position and make aircraft ownership work for you!
Every month we're adding pilots, creating more and more demand for our aircraft. If you have an airplane and you'd like to start making money with it, we would love to work with you.
What is a Leaseback? A leaseback is basically a management agreement. Under this agreement, Epix Aviation serves in the role of asset manager. The aircraft is owned by the individual, while Epix Aviation is responsible for marketing the aircraft, introducing qualified, well trained pilots, managing all financial transactions (including insurance), coordinating maintenance, and ensuring the aircraft meets all regulatory requirements.
Contact Jim today!